At A/GFTC, we continuously seek ways to improve access and infrastructure for cyclists and pedestrians. Below are just a few types of projects and services we provide.
Regional Bicycle Plan & Map
A/GFTC recently updated the Regional Bicycle Plan, which sets forth existing conditions, regional priorities, and implementation recommendations to support and encourage policies and projects that increase bicycling activity in the region. This includes an interactive online map, which illustrates existing trails, the priority bicycle network, and the priority project inventory. Click the image below to access this map.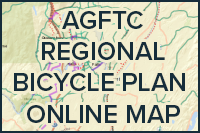 A/GFTC also maintains both paper and digital maps of regional bike trails for recreation. Click here for a pdf version. To request a paper copy, contact us at info@agftc.org or (518) 223-0086.
Bicycle/Pedestrian Feasibility Plans
For our member municipalities looking to construct or improve bike/ped facilities, A/GFTC offers in-house and consultant planning and conceptual design services. These projects are often used as a first step before applying for grant funding for construction, and include conceptual design alternatives and rough cost estimates. Examples include:
Fire Road – Crandall Park – Kensington Elementary School Bicycle and Pedestrian Improvements
Halfway Brook to Hudson Pointe Trail Connections (underway — updates coming soon)
Warren County Bikeway Extension (underway — updates coming soon)
Complete Streets Implementation
Assistance is available for planning efforts to implement Complete Streets policies within local land use codes. These could include revisions to Street and Roadway Standards, Zoning, Site Plan Review, and/or Subdivision Ordinances. A/GFTC assistance is also available for concept planning for complete street improvements.
ADA Transition Plans
Under Title II of the Americans with Disabilities Act (ADA), municipalities are required to maintain ADA Transition Plans or self-evaluations. A/GFTC staff have digital mapping of all local pedestrian facilities in the public right-of-way, which can be used to inform the transition plan. In addition, we can provide training or staff assistance to evaluate pedestrian infrastructure for compliance with ADA standards, as well as assistance in drafting and adoption a transition plan.
Make the Connection Program
The Make the Connection Program assists municipal project sponsors to fund improvements to the region's bicycle and pedestrian travel network. The intent of the program is to improve the non-motorized travel network by addressing gaps or deficiencies in the existing surface transportation system that discourage or physically impede efficient and safe bicycle and pedestrian activities. This includes improvements which address problems at specific locations such as intersections, short lengths of roadways or trails, or single destinations that generate pedestrian and bicycle travel. Check our Funding Opportunities page for updates about the next solicitation.